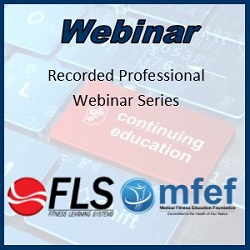 Our webinar library contains  a series of recorded webinars produced by the MedFit Education Foundation (mfef) in conjunction with FLS. These webinars are all one hour long and have continuing education credit available. You can subscribe to individual webinars or you can get a 1 Year subscription to the full library.
MFN (MedFit Network) members can also get access to these webinars through their MFN membership (MFN members Click Here)
Get Access to the Complete Webinar Library for just $99.95
Your one year subscription will give you access to all of the webinars in our webinar library. You can view any webinar whenever you like. We are adding about two webinars a month so the library will continue to grow. All of the webinars have CE credit available. Your 1 year subscription includes free access to CE quizzes for three webinars. If you would like to earn additional CE credits you can purchase additional CE quizzes for just $12.99 each. You will receive an email letting you know about each new webinar when it is added to the library.
Current FLS Online members
log in to subscribe.

New members
register to subscribe.
Get Individual Webinars for as little as $9.95
Individual webinars can be purchased with or without the CE Quiz.  For more information about each webinar, or to subscribe to an individual webinar, click on the webinar title below.