FLS Vision:
To create, operate, and manage a business that provides products and services which release the full potential in employees, partners, and customers by inspiring and cultivating ideas that will promote knowledge and capability in people to meaningfully serve others.
FLS Mission:
To establish meaningful relationships with partners to create and provide the following services:
Provide training and continuing education materials.
Increase the educational quality and usability of available materials.
Advance learning methodologies using electronic delivery.
Increase the availability and convenience of quality educational opportunities.
Strengthen associated organizations and industries by providing better educational materials, methods, and opportunities.
Improve the learning and retention experience for training and continuing education.
Develop creative ways to strengthen facilities, businesses, and organizations to be able to better serve their employees, customers, and people who use them to access reputable information and services.
FLS History:
FLS was incorporated as a part-time business in 2003 with the mission of bringing quality, up to date, relevant continuing education to health-fitness professionals at an affordable price.
As of January 2009, FLS operates as a full time, full service continuing education provider with online subscription and CD ROM eLearning courses developed in the proprietary Wasserman Method to accommodate all learning styles and make learning a more enjoyable experience.
Since 2009, FLS has developed several creative and progressive programs to serve our customers and their employees and members:
Education Online Systems (EOS) to help organizations seamlessly deliver quality education products with private label, partner, or managed education platforms.
Online Leaning Strategies (OLS) to promote and deliver wellness based courses and services.
Facility Education Source (FES) for facilities to promote quality education to employees to promote additional service lines for members, and to promote employee and member retention.
Fitness Continuing Education Alliance (FCEA) to align and promote some of the very best independent continuing education providers available in the allied health and fitness industries. These providers are the experts in the industry and provide services that span all certifying organizations.
In 2014, FLS sought and achieved the prestigious International Association for Continuing Education and Training (IACET) accreditation.
On April 1st 2020 FLS was acquired by NAFC (National Association for Fitness Certification) FLS is now a division of NAFC
April 2014
Fitness Learning Systems Becomes Authorized Provider of IACET CEUs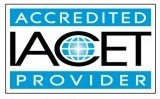 Prestigious Accreditation Demonstrates Commitment to 
High-Quality Lifelong Learning
The International Association for Continuing Education and Training (IACET) has awarded Fitness Learning Systems the prestigious Authorized Provider accreditation. IACET Authorized Providers are the only organizations approved to offer IACET Continuing Education Units (CEUs). The accreditation period extends for five years, and includes all programs offered or created during that time.
In order to achieve Authorized Provider accreditation, FLS completed a rigorous application process, including a review by an IACET site visitor, and successfully demonstrated adherence to the ANSI/IACET 1-2013 Standard addressing the design, development, administration, and evaluation of its programs. FLS has pledged its continued compliance with the Standard, and is now authorized to use the IACET name and Authorized Provider logo on promotional course material. In addition, FLS is now linked to the IACET web site and is recognized as offering the highest quality continuing education and training programs.
About IACET: The International Association for Continuing Education and Training (IACET) is a non-profit association dedicated to quality continuing education and training programs. IACET is the only standard-setting organization approved by the American National Standards Institute (ANSI) for continuing education and training. The ANSI/IACET Standard is the core of thousands of educational programs worldwide. For more information, please visit www.iacet.org or call 703-506-3275.
Informational Papers: