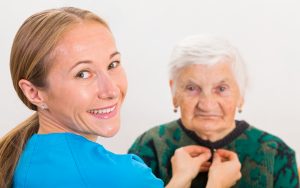 By Guest Blogger: Lydia Chan  Alzheimer's Caregiver | lydia@alzheimerscaregiver.net
It's National Family Caregivers Month, which means it's time to reflect on all that we do as family caregivers. The long nights, the extra housework — these are all part of caring for someone with Alzheimer's disease. However, as a labor of love, it is something that I wouldn't trade having done. And I learned a lot during my years in the proverbial trenches.
Exercise is important.
I'll admit, I was never much of an exerciser before. However, I found that going to the gym made me a better person and a better caregiver. When you exercise, you have more energy and feel better overall. It's tough to get to the gym, though, but if your own loved one is already enrolled in a Medicare Advantage plan you may be able to take them with you. Most Medicare Advantage plans have wellness benefits, including the SilverSneakers program. You can get in your exercise, and so can they through exercise classes designed with aging bodies in mind. Also, if you're at Medicare age, an Advantage plan can offer you the same benefits.
Eating right isn't always possible.
I have always enjoyed cooking, and I usually make a point to eat right at every meal. Unfortunately, when you spend all of your efforts making sure someone else is getting what they need, it's easy to neglect your own nutritional necessities. An important lesson I learned was that taking a multivitamin helps fill the gaps when you can consistently watch what you eat. Find the right one, and coupled with exercise, you'll have more energy, plus your body will get everything it needs for great gut health and better skin and hair.
You can't take it all personally.
One of the hardest lessons that I had to learn was that people who are sick with Alzheimer's disease aren't always nice. For a long time, I assumed that I was doing something wrong, but I wasn't. According to the Mayo Clinic, it can be hard to express thoughts when you have Alzheimer's. Furthermore, "uncharacteristic irritability or anger" is common. You have to learn how to let hurt feelings go because your loved one may not be able to control their mood.
It's okay to ask for help.
Caring for someone else is overwhelming. It's okay to admit that, and it's also fine to ask for help when you need it. This might be a family member, friend, or a paid home care provider. I was worried when we started doing this in my family, but I found a great checklist and care schedule online. I filled it out, stuck it to the refrigerator, and made sure that everyone about it.
You have to know when it's too much.
Finally, for your own sake as well as the person you love, you have to know when their physical, emotional, and medical needs exceed what you can provide. For us, this realization came when nobody was getting any sleep, and we were at the hospital for injuries more than we were at home. We used A Place for Mom to find a memory care program. If you live in the Chicago area, be prepared to do your research. It can cost anywhere between $1,500 and $13,000 for assisted living/memory care in Cook County. Ultimately, we chose a small center in Lakeview that falls somewhere in between cost-wise. When it comes time to pay, you do have options.
The bottom line is that to be a better caregiver you have to meet your needs. You also have to accept when you can't do it alone, as well as when your loved one needs full-time professional care. Everyone's caregiving journey is different, but hopefully, the above lessons I've learned can smooth out the rough spots on your path.
Click Here for Continuing Education for working with AD clients. Use code ALZDIS for a 25% discount for all Alzheimer's courses through DEC 2019.  See Box on Home Page.
Guest Blog Post by Lydia Chan
Lydia co-created Alzheimer's Caregiver, a website that aims to provide tips and resources to help caregivers. She is passionate about sharing her knowledge and experiences with caregivers and seniors. In her spare time, Lydia finds joy in writing articles about a range of caregiving topics. Alzheimer's Caregiver | lydia@alzheimerscaregiver.net