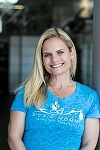 As a mother of three, Danielle understands the physical challenges women may face during pregnancy, childbirth and recovery on both a personal and professional level. Danielle is passionate about helping mom's look and feel their best during and after having children.
She has many years of experience researching the prenatal and postnatal population dating back to 1995 when she attended the University of North Texas. After receiving her B.S in Kinesiology, Danielle attended graduate school to study Exercise Physiology. It was during a graduate level exercise physiology class that Danielle discovered there was very little information about exercise during pregnancy. Danielle began her quest to understand more about the effects of exercise on the pregnant body.
In addition to her college education in this field, Danielle has been certified by several nationally recognized fitness organizations including, the Gray Institute, National Academy of Sports Medicine, American College of Sports Medicine, AFAA and Cooper Aerobics Institute of Dallas.
Danielle moved to Los Angeles in 1998 and was hired to be the pre and postnatal "master trainer" for the prestigious Sports Club/LA for several years. After giving birth to her first child, Danielle wrote the prenatal fitness continuing education course for the NASM. She then wrote and consulted for publications such as FitPregnancy magazine.
Danielle has mentored many exercise professionals how to safely treat the pre and postnatal clientele. Working with this population, encouraged Danielle to create a studio based exercise program called "Core Mom" (Corrective Obstetrical Related Exercise). This baby friendly exercise program is designed specifically for pregnant women and new mothers. This small group class setting allows for women to safely exercise with other mothers where they learn exercises that will enhance their prenatal and postpartum experience. This unique exercise program places emphasis is full body functional training with CORE and pelvic floor conditioning coupled with corrective exercises to give a pregnant or new mother an opportunity to prepare for birth, enhance the birth experience and expedite the recovery process.
For more information please contact Danielle@coremomfitness.com or refer to her website www.coremomfitness.com