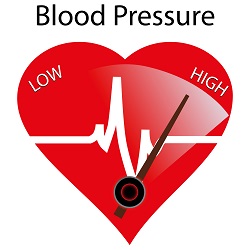 Compiled by June M. Chewning BS, MA
The information from this article is from "Blood Pressure, Hypertension, and Exercise."  A continuing education course offered by Fitness Learning Systems.
Did you know as a health-fitness professional you can have a positive affect on a client's health, longevity, and brain function by simply helping them prevent and manage hypertension? The good news is that it is easy- just get them to exercise regularly. The influence of exercise on blood pressure is significant, and for most clients promoting healthy blood pressure is as easy as learning how to assess BP, prescribe regular exercise, and re-assess BP.  Almost every client with elevating BP will see results with regular exercise…so why not be the BP hero?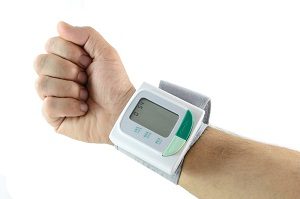 To be a BP hero, it is important to be educated in the anatomy of BP, how BP works, how to assess BP, BP disease exercise warning signs, and what has a positive affect on maintaining a good BP or lowering an elevated BP. This article gives you a snapshot insight into the fascinating world of blood pressure and exercise.
The body delivers vital oxygen and nutrients and removes waste and metabolic by-products through the combined effort of the cardiovascular and respiratory systems, referred to in combination as the cardiorespiratory (CR) system. The lungs in the pulmonary system are of particular interest as the closed loop vascular system passes through the lungs to pick up oxygen and dispose of carbon dioxide. The success of this closed-loop system relies heavily on a delicate balance to provide effective distribution of blood to virtually all organs and cells in the body.
The proper function of the cardiorespiratory system, and the ability of blood to continuously loop though the system, depends on maintaining the proper pressure in the vessels and organs of the cardiorespiratory system. The pressure is primarily controlled by the vascular system. The pressure maintained in the CR system is measured and monitored by blood pressure.
Blood Pressure is defined as the pressure/force exerted on the arterial walls with each heart beat. (Cleveland Clinic 2019) Blood pressure can be measured directly by a catheter in the artery, or indirectly with a blood pressure cuff and sphygmomanometer. Two pressures in the arteries are measured to determine blood pressure (BP).
Systolic Blood Pressure (SBP): represents the highest pressure (against the artery walls) in the artery occurring during ventricular systole, or ventricular contraction, and ventricular blood ejection.
Diastolic Blood Pressure (DBP): represents the lowest pressure (against the artery walls) in the artery occurring during ventricular diastole, or ventricular relaxation, which allows the heart to refill.
Blood pressure is the amount of force (hydrostatic pressure) that pushes the blood through the vascular system. Pressure drops gradually as the large arterial vessels branch resulting in lower venous pressures (compared to artery pressure) as the blood progresses through the closed loop system. Blood pressure and associated measures are commonly expressed in millimeters of mercury or "mmHg."
BP is expressed by ventricular systole over ventricular diastole, for example 120/80. Blood pressure does not remain constant and varies throughout the day or over time in the aging process depending on many factors including exercise, stress, body position, medication, cardiovascular condition, respiratory health, proper hydration, and age.
Did You Know?
Blood Pressure depends primarily on body size.
So, children and young adolescents have much lower blood pressures than adults. (Kenney 2019)
Current Guidelines for BP Classification and Management

American Heart Association 2019 (www.heart.org)

Systolic     BP
Diastolic BP
Classification
*Recommendations
<120 and
<80
Normal
Healthy lifestyle choices and yearly checks.
120-129 and
<80
Elevated Blood Pressure
Healthy lifestyle changes and reassessed in 3-6 months
130-139 or
80-89
High Blood Pressure Stage I
10 year heart disease and stroke risk assessment. If less than 10% risk, lifestyle changes and reassessed in 3-6 months. If higher after reassessment, lifestyle changes and medication with monthly follow-ups until BP is controlled.
≥140 or
≥90
High Blood Pressure Stage II
Lifestyle changes and 2 different classes of medicine, with monthly follow-ups until BP is controlled.
*Individual recommendations need to come from health care provider.

Source: American Heart Association's Journal Hypertension published November 13, 2017.
Hypertension is defined as:
"Having a resting systolic blood pressure (SBP) >140 mmHg and/or a resting diastolic blood pressure (DBP) >90 mmHg, confirmed by a minimum of two measures taken on at least two separate days, or taking antihypertensive medication for the purpose of blood pressure control." (ACSM 2018)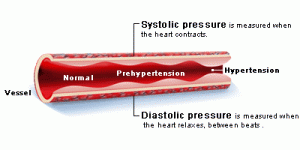 This chronic medical condition is called the "silent killer" because there are typically no symptoms. Learning how to assess BP for your client can put you forefront in the fight to detect and fight this deadly chronic disease.  Elevated blood pressure can increase the risk for coronary artery disease, stroke, heart attack, kidney disease, peripheral artery disease, and heart failure. There are both genetic and lifestyle factors that can affect the development of hypertension.
A client with hypertension should engage in regular exercise after their blood pressure is effectively controlled. Exercise to control and manage high blood pressure should only be initiated after the client has seen their health care professional and is under medical supervision and treatment.  Systolic blood pressure can increase significantly during exercise, so the client coming to you with high blood pressure should not exercise without medical clearance.
Did You Know?
Hypertension causes the heart to work harder than normal at rest and with activity because it has to pump blood from the left ventricle against a greater resistance in the arteries. (Kenney 2019)
The American Heart Association updated guidelines recommend treatment options including lifestyle changes and blood pressure lowering medications. The lifestyle modifications for those with hypertension can lower systolic approximately 4 to 11 mmHg with the largest impact from diet and exercise. (Whelton et al., 2017)
It is well documented that even light-moderate exercise can help control and lower blood pressure if you have hypertension. The World Health Organization (WHO) recommends a minimum threshold of 150 minutes per week of moderate intensity physical activity for health and quality of life. Physical activity plays an important role in health, longevity, and quality of life. Maintaining physical activity/exercise is recommended for prevention and control of virtually all chronic diseases.
In most people, hypertension responds well to using physical activity/exercise as an adjunct therapy. Starting regular exercise can often help you control hypertension with lower medication doses. As a health-fitness professional , it is very rewarding to see a client reduce or eliminate blood pressure medication through a regular exercise program.
To learn more, take continuing education courses about blood pressure and exercise. Knowledge is power and will help you to become a BP hero!
References
Chewning, J and Schmidt-McNulty T. (2019) Blood Pressure, Hypertension, and Exercise. Fitness Learning Systems. FitnessLearningSystems.com
American College of Sports Medicine (ACSM). (2018) ACSM' Guidelines for Exercise Testing and Prescription. 10th Wolters Kluwer.
Kenney WL, Wilmore JH, Costill DL. (2015) Physiology of Sport and Exercise. 6th Human Kinetics.
Whelton PK, Carey RM, Aronow WS, Casey DE Jr, Collins KJ, Dennison-Himmelfarb C, DePalma SM, Gidding S, Jamerson KA, Jones DW, MacLaughlin EJ, Muntner P, Ovbiagele B, Smith SC Jr, Spencer CC, Stafford RS, Taler SJ, Thomas RJ, Williams KA Sr, Williamson JD, and Wright JT Jr. (2017) ACC/AHA/AAPA/ABC/ACPM/AGS/APhA/ASH/ASPC/NMA/PCNA guideline for the prevention, detection, evaluation, and management of high blood pressure in adults: A report of the American College of Cardiology/American Heart Association Task Force on Clinical Practice Guidelines. Hypertension. doi: 10.1161/HYP.0000000000000065